Batman
Pro: Incredibly wealthy child of privilege who lives and works in Gotham. 
Con: Lets people die
Dr. Fate
Pro: Mostly invulnerable, attempts to use it's power to fight chaos and preserve a status quo
Con: People actually read the New York Times
Superman: 
Pro: Both work in a struggling industry. Both have been around so long that nobody remembers just what it was that made it special. 
Con: Superman fights against big business and special interests to champion the little guy.
Black Canary
Pro: Uses shrill, piercing voice to destroy anyone in path.
Con: Black Canary's reluctant to use powers. New York Times uses it twice a week despite protests.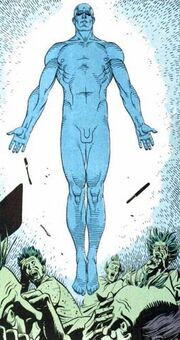 Dr. Manhattan
Pro: Cold, impersonal, tool of the U.S. Government used for war. Over time, sheer enormity of infinite power has made it unable to empathize with human beings. Also, easily tricked. Complicit in mass genocide.
Con:  Not quite sure, but I always felt the Times was more of an Ozymandias.
What do you think?